Expanded Metal Mesh
1.Expanded metal sheets (also called expanded metal meshes) formed from a single piece of metal without any welding or waste are ductile and can be adapted for use in many applications: filters, fences, walkways, steps, soundproofing panels, dividing panels, ornamental or furnishing components and drying surfaces.
The most commonly used materials are stainless steel, aluminium, carbon steel, zinc-plated steel, brass.Expanded meshes are available in rolls or in standard size sheets (1000 x2000, 1250x2500, 1500x3000 mm).
The wide range of expanded metal is classified according to the opening, thickness and strand width of the sheet.
The most popular openings are diamond, square, round and hexagonal.
On request we can supply flattened or bent expanded metal.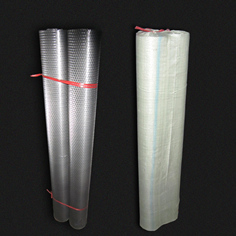 2.Expanded Mesh
A major advantage of expanded is that the mesh is formed from a single piece of material so the process is not wasteful and therefore cost effective
The material is cut and stretched while still leaving it attached at the knuckle. This allows it to retain its shape when cut and cannot separate or fray. Often cutting to shape is the only fabrication needed.
Because of its jointless continuity it is a highly efficient conductor of electricity, magnetic flux and heat.
It has excellent corrosion resistance when suitably coated, and the uncut knuckles support weight and withstand stress better than jointed welds or woven materials.
Expanded mesh can be supplied in a variety of finishes, thickness, raised or flattened. Flattened is smoother and does not indent soft materials if this is a consideration but is not as strong as the more robust raised mesh. Powder coating in your choice of colour will enhance its aesthetic appearance and add to its corrosion resistance as would plastic coating.
We can supply in framed panels made to customers specific requirements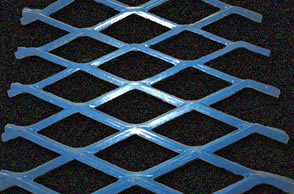 3.Expanded Mesh
Mesh is produced in both Raised and Flattened expanded metal forms. The strands and knuckles of the raised expanded metal mesh are set at a uniform angle to the original plane of the sheet, adding strength and rigidity by distributing the load to the supporting frames.
Flattened expanded metal mesh is manufactured by passing a raised expanded metal sheet through an additional cold rolling mill process to turn down the strands and knuckles to produce a smooth and flat surface which reduces the overall thickness and elongates the diamond pattern.